Shopping Basket
Your Basket is Empty
There was an error with PayPal
Click here to try again
Thank you for your business!
You should receive an order confirmation from Paypal shortly.
Exit Shopping Basket
Alexandra Perrin Mobile Glam
Bringing glamour to each and every one of you
I have such a passion for glamour and I really am in my element when it comes to jewellery, bags and scarfs.
Along with having a passion for fashion especially the Stella & Dot brand, I run my own mobile beauty business called Mobile Glam so the two really go hand in hand together quite well. I love to make people feel good about themselves from top to toe so helping women make the most of their wardrobes by accessorizing with a few key pieces is an amazing addition to my business! The power of accessories never ceases to amaze -- You can start with an outfit and completely change the look by simply swapping your accessories.
About-
Stella and Dot, an Inc. 500 Fastest-Growing Company, is a San Francisco based social selling company that creates flexible entrepreneurial opportunities for women.
Behind The Design-
Stella & Dot creates luxurious looks that make celebrities and editors swoon, at a price that's within reach of all women. You'll find lustrous gem-stoned necklaces, stackable rings and bangles, yummy leather signature clutches and so much more. Half the line is under £45, making it perfect for updating with new season trends and finding the perfect gift for any occasion or recipient.
Custom Design-
No retail stores. Our storefronts are a pop - up shop in your living room, instead of expensive retail stores.
Direct sourcing. We travel the world to work directly with the finest stone cutters and component makers, sourcing our own goods to eliminate the mark-up of a middle man.
Obsessively designed by our New York design team, some coming from Marc Jacobs, Alice Temperley, Kate Spade, and Ippolita just to name a few. Our designs represent the best talent in the industry with experience from top luxury brands. Plus, our accessories are all backed by our delight guarantee, fast shipping, free and easy returns.
Editor coveted, celebrity adored-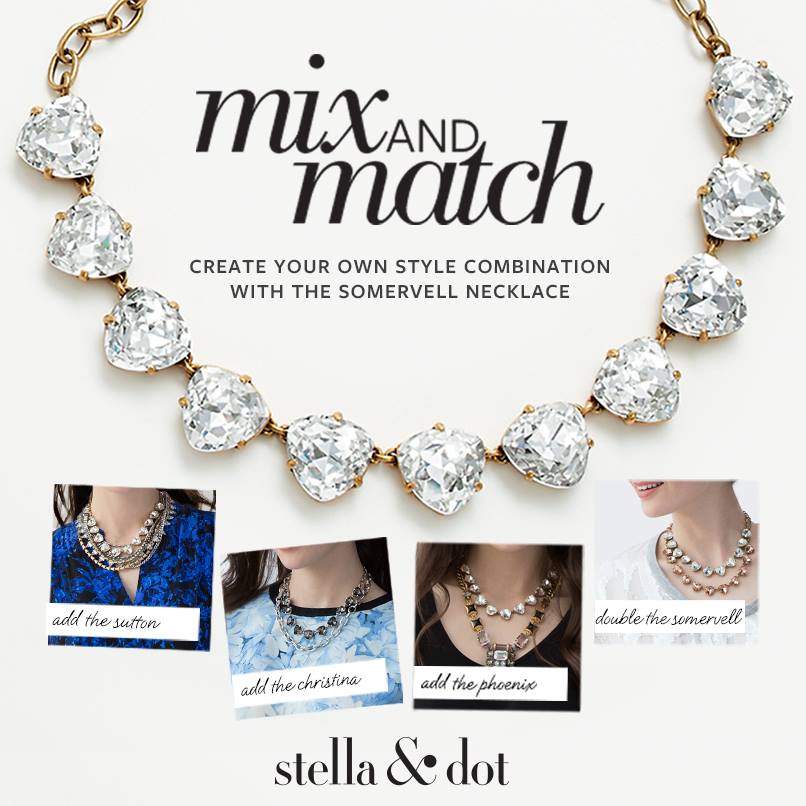 Have you ever admired a celeb's style, yet know the labels she is wearing were out of your reach/budget? What if that same celebrity had on pieces that were affordable to those of us NOT on the red carpet scene?! True story...Celebs LOVE Stella & Dot! Look through today's most current magazines, turn on the television, Stella & Dot pieces are the new "Where's Waldo"! You can find them on the wrists and necklines of news anchors, actresses, reality tv stars, debutantes and politicians everywhere you turn! Why do celebs wear Stella & Dot when cost is not an issue? QUALITY. It is obvious that the pieces are stunning and stylish, but it's the craftsmanship that attracts celebrities to Stella & Dot again and again.
why trunk shows?
We are modernizing the home-based business model for today's woman. Trunk Shows give women a hands-on, personalized, social shopping experience. No glass cases. No pushy salespeople. Instead, a Stella & Dot event is a casual, fun, presentation-free way for girlfriends to get together, play with accessories and get advice from Stylists and friends.
There's no better way to share Stella & Dot style than by hosting a Trunk Show for your friends! You can't find it anywhere else! Your friends will thank you for a great time, and we will thank you with fabulous FREE accessories!!!! The average host receives an average of £120.00 in free jewellery as well as half off many items!
What are you waiting for?
Invite over a few friends, enjoy some drinks, some laughs, kid free conversation...PLAY DRESS UP!!!! 90 minutes. NO games. No gimmicks. Me and my jewellery and letting you try it on! Nothing more. Nothing less. You deserve it. And if that isn't good enough...the cherry on top of this all....you can earn FREE jewellery for hosting a trunk show...a LOT of FREE jewellery.
Take a look at my Stella & Dot Website:-  http://www.stelladot.co.uk/sites/alexandraperrin
Message me, call me........contact me if you are interested, I promise you won't regret a minute ♥

/